As hotels strive to create memorable guest experiences, attention to detail is key. From the moment guests check-in to the time they check-out, every touchpoint matters. One often overlooked yet powerful marketing tool that can enhance guest satisfaction is the humble plastic door hanger.
When it comes to door hangers, Print Robot is your go-to source for custom plastic door hangers that can elevate your hotel's brand and guest experience.
Located on Providenciales in the Turks and Caicos Islands, Villa del Mar is an intimate resort featuring 42 beautifully appointed suites across three low rise buildings. The property surrounds you with beautiful pools and the serenity of its private and impeccably maintained gardens, just steps from Grace Bay Beach.
When Villa Del Mar Resort was in need of a variety of printed hospitality products, they turned to Print Robot for custom door hangers, key tags, no smoking table tents, water conservation table signs, and plastic towel cards. Print Robot provided custom design services as well which assisted in enhancing the resort's brand and customer experience.
Hilton Worldwide is one of the largest hotel chains in the world with over 6,500 properties. The Hilton Palm Beach Airport, is a lakeside retreat that is located a short drive from West Palm Beach's downtown area near Palm Beach international airport, CityPlace, the Kravis Center for the performing arts, shops, restaurants, and sandy beaches
Everyone is familiar with the Hilton family of hotels. When they were in need of a local South Florida printer to create some Privacy Please hotel door hangers, they discovered Print Robot and took advantage of our easy online ordering system with instant pricing and supplied their own print-ready artwork.
3.

Hershey Farm

in Ronks, Pennsylvania
Hershey Farm is a beautiful 23-acre property located in the heart of Lancaster County's Amish Country. They offer three unique lodging experiences including the Main Inn, Carriage House, and Farm House, all of which include scenic walking trails, friendly farm animals, a refreshing outdoor pool, and beautiful views. Hershey Farm is also well known for their shoppes, restaurant, and bakery. In January of 2023, a devastating fire destroyed the restaurant and shoppes. Fortunately, nobody was injured and they are currently being rebuilt with an estimated completion sometime in 2024.
Hershey Farm was looking for some unique Do Not Disturb plastic door hangers to represent their beautiful property and turned to Print Robot for durable, waterproof door hangers that also included complimentary design services to capture the essence of their farm.
The St. James Hotel was established in 1875 and is designated as one of America's Historic Hotels. It features 67 unique rooms, each with a singular story and design. This luxury hotel is set amid the iconic Mississippi River and majestic bluffs. Endless as the river, the St. James is filled with incredible stories ranging from past presidents and riverboat captains to Mark Twain, Bob Dylan, and a vaudevillian or two.
The St. James was in need of some "Conserve & Preserve" hotel door hangers and supplied Print Robot with print-ready art files so we could produce the small quantity that they needed for their campaign.
Cascada hotel is a modern boutique hotel with 74 rooms, each one individually designed around a Swiss waterfall theme. It is centrally located in the trendy Lucerne Neustadt district within walking distance to the train station, Lake Lucerne, and the old town with picturesque mountain views.
Cascada Hotel was in need of 5 sets of custom door hangers and was unable to find a vendor in their country that could supply the PVC plastic hangers they were looking for. Print Robot was able to recreate their existing files to work with a standard size and created a new variation that was needed for this campaign. The 5 sets contain both English and German text for their color coated door hangers including Do Not Disturb, Please Clean Room, Save the Environment, Room Not Cleaned, and one to show where the Bed Runner is stored. They were produced on durable, waterproof PVC plastic.
Print Robot is proud to service many customers in the hospitality industry and next to hotel key cards, plastic door hangers are definitely the second most popular requested product for resorts and hotels. We are proud to service all sizes of hotels and resorts from mom and pops to global brands and everything in between both locally and abroad. We are able to produce as few as 100 door hangers and can handle large volume orders of 1 million+.
Are you in need of Plastic Door Hangers for your hotel?
Click here to request free design services. Just provide your logo and an idea of what you'd like to appear on your plastic door hangers and we'll take care of the rest!
Already have artwork ready to go? Take advantage of our instant price calculator which allows you to upload your print ready files and place your order.
Prefer to talk to a live person? Call 800.547.6624 Monday - Friday 8am - 5pm EST to speak to a friendly representative.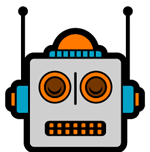 About Print Robot
We are hard-coded to be passionate about producing high quality printed products at affordable prices. Print Robot creates a wide range of plastic cards, magnets, signs, and decals. We offer FREE design services on most orders $250+ and print all products in the USA.