The holidays are approaching and if you are a business owner, it's time to think about

gift cards

. Year after year, plastic gift cards are reported to be the favorite item on everyone's wish list including both retailers and consumers.
As a consumer, you already know why customers love gift cards - it allows them to pick out whatever they want. Digital gift cards have been gaining in popularity but most customers still prefer a physical plastic gift card. It has a higher perceived value and is easier to keep track of.
Business owners love gift cards too. Here are the top 3 reasons why:

1. Getting Cash Upfront Gives Cash Flow a Boost
Aside from the cost of the plastic card itself which is often reusable and ranges in price from $3 each to under $0.25 each (depending on the quantity purchased), there are no upfront costs. This means that selling a $100 gift card will give your business an immediate injection of cash.

2. Consumers Love Supporting Their Favorite Local Businesses
This holiday season, many consumers are going the extra mile to support their local businesses, and gift cards are the easiest way to do that.
2020 has been very difficult for most small businesses and customers are eager to do their part to help. Many of them are pledging their own #ShopLocal campaigns when it comes to holiday shopping this year.
Gift cards are a WIN-WIN-WIN this holiday season because the customer feels good about helping a local business. The gift recipient gets to pick out whatever they'd like. And the business owner generates some much needed revenue.

3. Customers Typically Spend More than the Value of the Gift Card
A recent gift card spending survey showed that 65% of gift card holders spend an extra 38% above their gift card's value.
If you've received a $50 gift card, why not put that money towards an even bigger purchase. Psychologically, it almost feels like the $50 gift card is a discount towards the larger purchase which typically results in more profits for businesses.
Just about all businesses benefit from selling plastic gift cards including:
Restaurants & Bars
Spas
Gift Shops
Salons & Barber Shops
Museums & Entertainment Venues
Hospitality
Gyms & Yoga Studios
Coffee Shops
Boutiques
Service Providers
Retailers
eCommerce Stores
If you own a business, there really isn't a downside to ordering holiday gift cards and Print Robot makes it easy with FREE design services on gift card orders over $250.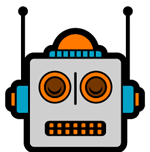 About Print Robot
We are hard-coded to be passionate about producing high quality printed products at affordable prices. Our product line includes a wide range of plastic cards, magnets, signs, and decals. Print Robot offers FREE design services & proudly prints in the USA.