The real estate industry has gone high tech in a big way over the last few years with online marketing soaring, however, some proven marketing methods have remained the same.
Here are some

tried-and-true marketing tools

like real estate signs and magnets that have stood the test of time.
Whether it's letting potential customers know about an open house, informing your community about your services, or just staying top of mind with past and potential customers for lead generation, these low tech marketing tools are must haves for real estate pros.
1. Real Estate Signs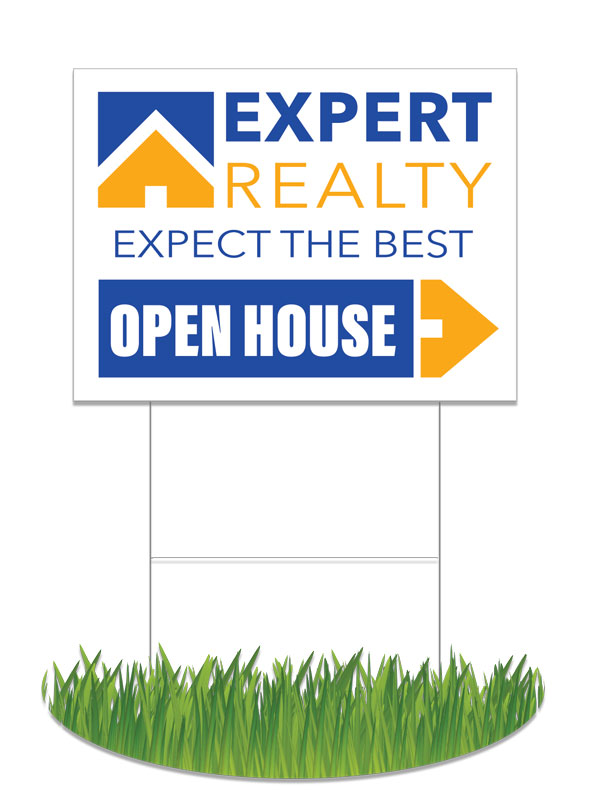 Real estate signs, particularly custom yard signs, are one of the most popular marketing tools for realtors and sales agents.
When it comes to residential real estate and sales of apartments or single family homes, real estate yard signs are most commonly used as open house signs, for sale signs, just sold / just listed, and directional signage.
They can be used to advertise a real estate company, or to promote a specific realtor, real estate agent, or sales team.
There are several generic options out there - particularly for open house signs, but it's important not to miss out an opportunity for custom branding.
Realtor signs are mini billboards that promote you and your company. The more often residents see your name in the area, the better the chance that they will see you as THE person to call.
When designing your custom real estate signs, less is more. Put as little information as possible on the signs to make them easy to read. This is especially important on luxury real estate signs. The simpler the design, the more upscale it looks.
Always check with your local city and neighborhood guidelines when it comes to displaying your yard signs. Some places do not have any restrictions while others only allow them to be put up on on weekends, or for just a short time during an open house.
2. Real Estate Car Magnets
Custom car door magnets are a powerful and inexpensive marketing tool for real estate professionals. They are the mobile billboard that goes wherever you do, telling passersby that you are an industry expert ready to assist them.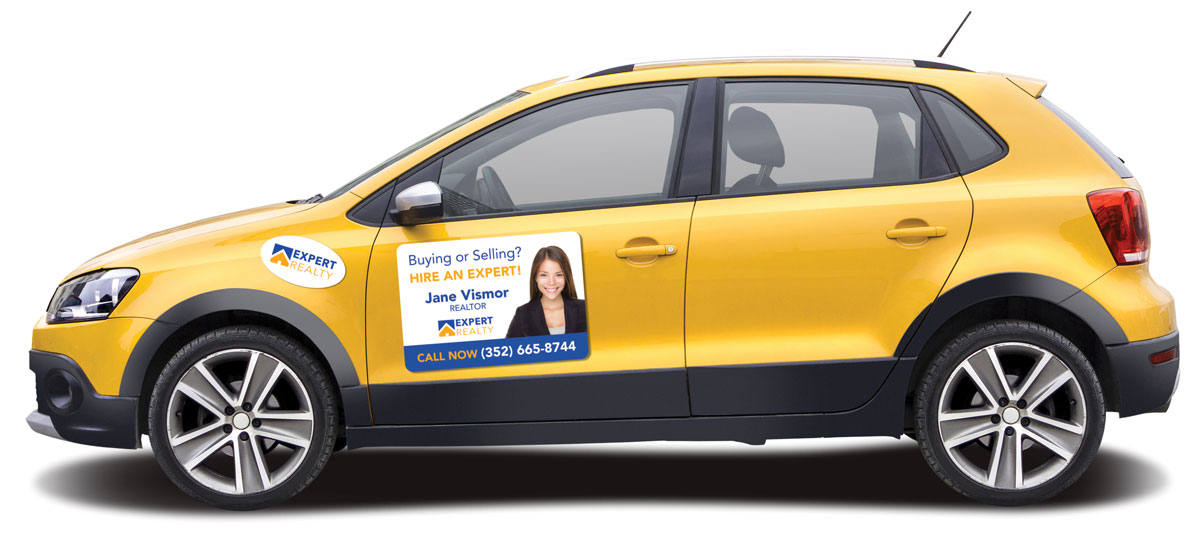 Since many potential customers will be seeing this sign while you are moving or at a red light, it is very important to keep the design simple. Your name, logo, phone number, and possibly a website. Of course a photograph can be added as well.
If you specialize in a certain area such as commercial rentals or if you have a tagline, that can be added, but other than that, try to keep your real estate car magnets as simple and elegant as possible to maximize legibility.
One nice thing about car magnets is that they can be easily removed and reapplied at any time. Most realtors prefer to keep them on their vehicles at all times but it is nice to have the option to remove them as well.
3. Plastic Business Cards
If you specialize in luxury real estate - or are just looking for a memorable leave behind, try plastic business cards. They are the same size and thickness as a credit card which is very unique.
If you plan to add your photograph, stick with white plastic cards. If you want something extra chic, try metallic plastic cards. These are available in gold, silver, or copper and look best when printed with black ink. Metallic plastic cards are a great way for realtors to impress high end clients with a marketing tool that sets them apart from the competition.
4. Business Card Magnets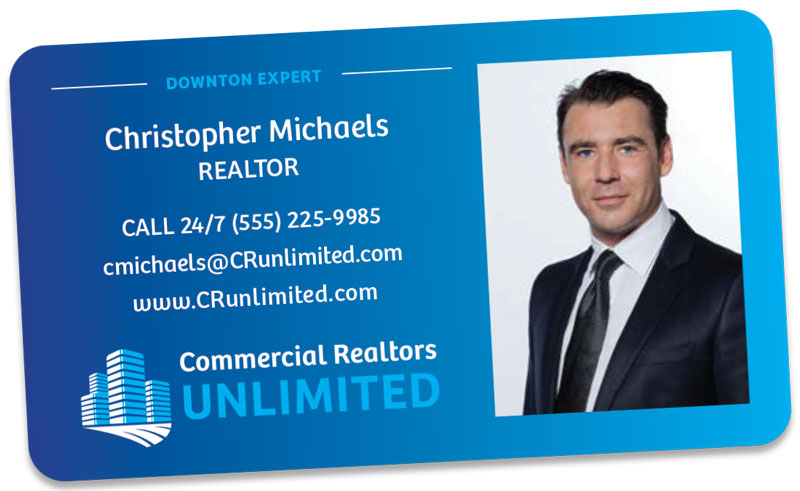 Magnetic business cards are an inexpensive marketing tool that can help realtors stay top of mind with past and potential customers. They often use the same artwork as a standard business card but printed on magnetic material so they are prominently displayed on refrigerators and file cabinets.
Business card magnets typically feature the agent's name, photograph, real estate company, contact information, and a tagline or slogan to let people know what they specialize in.
5. Calendar Magnets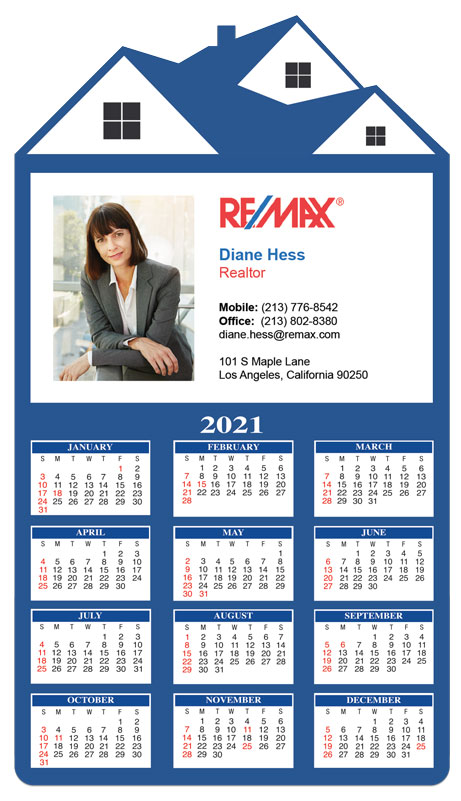 Custom calendar & schedule magnets are the promotional item that lasts all year long! The most popular use is to take an existing calendar template and add your design to the top which contains the same information as your business card. Rectangle magnets are the least expensive option, or create something that really stands out with a custom shape refrigerator magnet.
At the end of each year, a new calendar magnet can be ordered and distributed which gives you a good excuse to reach out to past customers and find out if they are planning to buy or sell anytime soon.
Calendar magnets aren't limited to months of the year. They can be used to display local events, farmer's markets, sports teams, anything that allows your customers to stay informed.
6. Refrigerator Magnets
Custom fridge magnets make a great marketing tool for real estate professionals. They stick to any indoor metal surface including file cabinets and refrigerators and are one more way to stay top of mind with potential or past clients.
These can be used to create a simple branding piece or something more outside the box.
Ever wonder how many teaspoons are in a tablespoon? How many ounces are in a cup? So have many others. Why not create a kitchen conversion magnet that also contains your contact information?
What about a magnet with important phone numbers or upcoming events? If it contains useful information, there is a good chance customers will use them.
When it comes to marketing, being in the right place at the right time is crucial. Why not be front and center on their fridge so you are the first person they think of when they are ready for their next move?
Image is Everything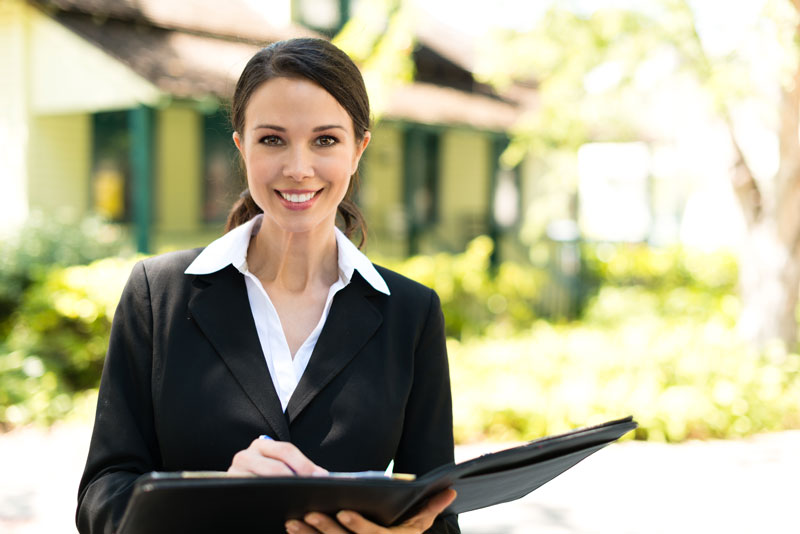 According to the National Association of Realtors, marketing is as much about telling your own story as a real estate pro as it is about selling a property. Consumers want to know who you are and whether you're the right person to guide them through what is likely the biggest purchase of their lives.
Image is important in all professions, especially real estate. Professionally designed marketing tools can go a long way in presenting an image that adds credibility to the services you provide and lets people know what locations or types of real estate you specialize in.
Design continuity is key. Try to keep a similar design and color scheme going across all avenues of marketing from your website and business cards, to your signage and magnets. This will help to get the maximum amount of value for your exposure by creating a brand that is easily recognizable.
About Print Robot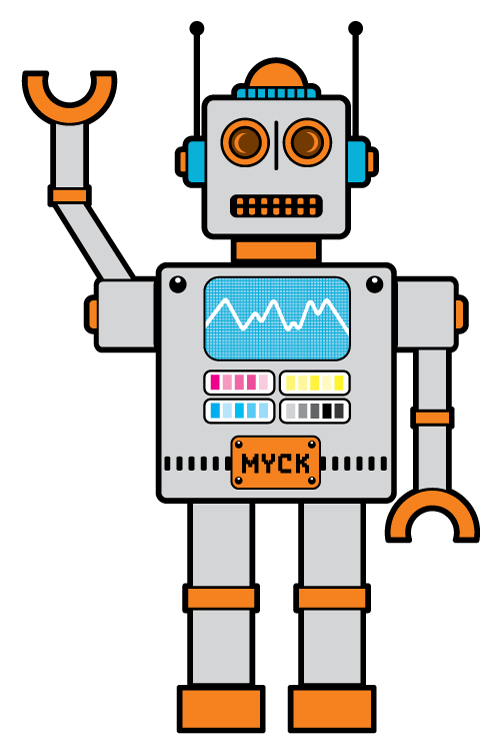 Print Robot offers a wide range of printed products for realtors & real estate agents. From real estate signs and car magnets to fridge magnets, and plastic business cards, we've got you covered!
We proudly print our products in the USA from our factory in Pompano Beach, Florida. We ship nationwide and also offer convenient curbside pickup to our South Florida customers.
Best of all, we offer incredible support and free design services on orders over $250! Just send us your logo, photograph, and an idea of what you are looking for and we'll take care of the rest.
If you are a real estate company looking for an ongoing solution contact us. We are happy to create specialized templates for your agents along with a customized ordering page to make the process easy.
Request a sample kit

,
get started with

free design services,

or call 800.547.6624 8am - 5pm EST Monday - Friday and speak directly to a friendly representative.