As the hospitality industry begins to recover, the demand for hotel key cards and other printed products are on the rise.
According to Forbes, there is a bright future ahead for the hospitality industry and it is clear that 2021-2022 is poised for growth thanks to the wide-spread pent-up demand for travel after the restrictions imposed in 2020.
This has caused a new surge in demand for several printed products and has even generated some new trends in the hospitality industry.
1. Hotel Key Cards
Custom printed hotel key cards are a valuable asset for hotels and resorts. Some prefer the style with a magnetic stripe while most are ordering RFID plastic cards that are custom printed with their logo and branding. RFID plastic cards are embedded with a tiny microchip in the center of the plastic card, barely visible to the naked eye. They can be programmed to open RFID-enabled devices such as hotel rooms and doors requiring secure access.
2. Plastic Door Hangers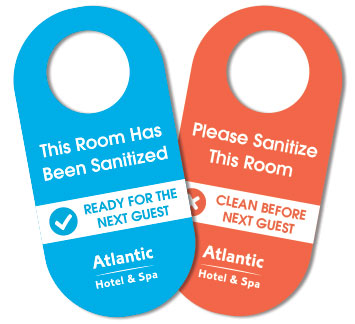 Privacy and housekeeping door hangers have been around for many years. These classic door signs are an easy way for hotel guests to communicate with your staff. A new trend has been emerging for this product that allows housekeeping to display when a room has been disinfected using advanced cleaning protocols. The reverse side can be used when a guest checks out or to request a room cleaning. Displaying that advanced cleaning protocols are in place can help to put the minds of wary travelers at ease.
3. Covid Safety Products
Covid safety procedures have inspired several new safety products that are beneficial to the hospitality industry. In addition to the above plastic door hangers, these include custom printed floor decals, table tents, table signs, and more. They can be used to promote social distancing, display which areas have recently been sanitized, indicate tables / sections that are temporarily closed, and incorporate QR codes for contactless solutions.
4. QR Codes
QR codes (short for Quick Response) are a square code similar to a barcode that can be scanned by any smartphone or tablet. After being scanned, the QR code immediately takes the customer to a predetermined web link without requiring them to type anything in.
While QR codes have been around for many years, they have recently experienced a new surge in popularity for a few reasons:
Smartphones and tablets now allow a user to simply point their device's camera at the code and it will automatically take them to a specific web page without the possibility of typing in the incorrect website address.
The new post-covid society we live in LOVES contactless solutions. QR codes can be used to display room service menus, allow online ordering, or even to offer easy payment solutions. The options are endless.
QR codes can be incorporated into printed products including hotel key cards, door hangers, table tents, and more to display any type of information including videos, menus, and online ordering solutions.
5. Table Tents & Signs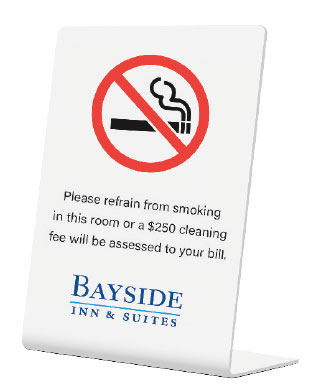 Custom table tents and signs are extremely popular in the hospitality industry. They can be displayed in guest rooms, on restaurant tables, at the front desk, and throughout hotels. Plastic table signs are durable, weatherproof, and can be easily sanitized as needed.
Popular uses for these signs include displaying WIFI login instructions & passwords, promoting green initiatives like reusing towels, denoting which tables are reserved or closed, and no smoking signs. New trends incorporate QR codes into table signs, allowing guests to easily order room service, view a menu and order drinks by the pool, and so much more.
6. Plastic Towel Cards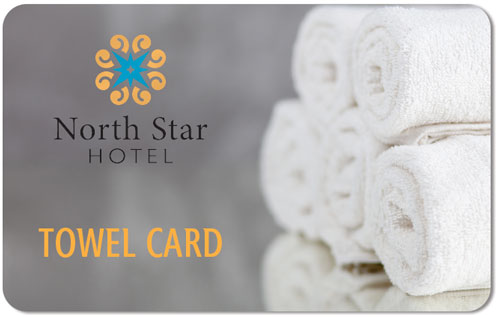 Many hotels and resorts will opt to provide their guests with plastic towel cards upon check in. The towel cards can be exchanged for clean pool / beach towels at the towel hut. They can then return their wet towels to receive clean towels or request their towel card back to be reused the following day. Plastic towel cards are waterproof, durable, and can be easily sanitized. They are a valuable tool that can assist in reducing theft and towel costs.
7. Gift Cards
Gift cards are everyone's favorite gift. They provide an easy gift for the purchaser and instant cash flow for the business. Custom gift cards can be ordered for the hotel itself, restaurants, the spa, and more. They can be loaded with a set amount of funds or used as a redeemable voucher for a meal or drinks during their stay. Standard gift cards are the same size and thickness as a credit card and can incorporate a magnetic stripe, barcode, and/or unique numbering. Thin plastic cards are also available and offer a cost effective solution for vouchers and giveaways.
8. Parking Passes
Custom parking passes can be used in a variety of ways. They are available in 2 styles. Parking pass decals or clings can be purchased for hotel employees or club members to be displayed on their vehicle. Hanging plastic parking passes can be easily removed as needed and can be used for valet parking, VIP guests, or even to assist in tagging checked luggage. Parking passes can be numbered and barcodes or expiration dates can be added as well.
About Print Robot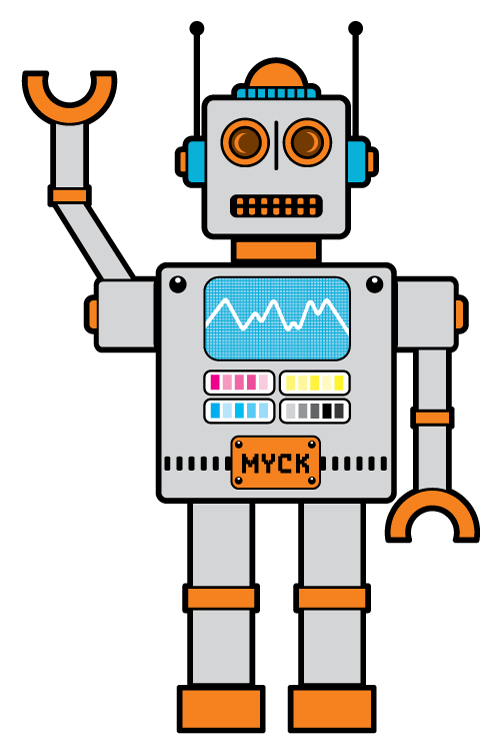 Print Robot offers a wide range of printed products for hotels, motels, and resorts. From hotel key cards and door hangers to towel cards and table signs, we've got you covered!
We proudly print our products in the USA from our factory in Pompano Beach, Florida. We ship nationwide and also offer convenient curbside pickup to our South Florida customers.
Best of all, we offer incredible support and free design services on orders over $250! Just send us your logo, photograph, and an idea of what you are looking for and we'll take care of the rest.
If you are a real estate company looking for an ongoing solution contact us. We are happy to create specialized templates for your agents along with a customized ordering page to make the process easy.
Request a sample kit

,
get started with

free design services,

or call 800.547.6624 8am - 5pm EST Monday - Friday and speak directly to a friendly representative.