Ordering custom gift cards for your business for the first time can feel a bit overwhelming. It's actually easier than you may think!
The first thing to think about is timing. Plastic gift cards typically take 2 - 3 weeks to produce so order early. Always be sure to check your gift card inventory around October or November to ensure that you will have ample supply during the holiday shopping season.
Everyone loves receiving a gift card because they provide a fun shopping spree but do you know why business owners find custom gift cards to be so valuable?
Gift cards are purchased upfront which provides cash flow to your business.
A percentage of the gift cards sold will never be redeemed.
A recent gift card spending survey showed that 65% of gift card holders spend an extra 38% above their gift card's value.
1. What type of gift card would you like to order?
Single-Use Gift Cards
This is the simplest type of gift card. It can be redeemed like a voucher or coupon.
These gift cards typically have a set value printed on them and are only used once by each customer (although your company can often reuse them). For example, all of the gift cards could be printed with $5 value or $50 value. This is the simplest type of card to produce but it is not as versatile because they can only be used towards a single purchase.
Reloadable Gift Cards
Reloadable gift cards are much more popular. Instead of having the value of the gift card printed directly on the cards, it is assigned at the time of purchase. This requires your business to have a POS (Point of Sale) system that can assign a value to each individual card. This is done by swiping or scanning a magnetic stripe, barcode, or QR code and assigning the value at the time of purchase. Each time the gift card is swiped or scanned during a transaction, the gift card's value is adjusted in your POS system.
Check with your POS company to determine if a magnetic stripe, barcode, or QR code would work best with your system.
Looking to buy physical gift cards for your eCommerce store? Your gift cards can be printed with unique promo codes that can be redeemed online through your website.
2. How many gift cards do you need?
If this is your first time ordering custom gift cards for your business, you may want to start with a smaller quantity as a test order. 100 is typically the minimum quantity but keep in mind that the best value can be found in ordering 500 or 1,000 quantity.
There is a lot of setup involved in producing plastic cards and 1,000 quantity is often the sweet spot where you will see a big drop in the price per card. Many small businesses will start with a smaller quantity on their first order until they can get a feel for how many they will sell in a quarter or year.
What would you like to appear on your gift cards?
Gift cards are an extension of your company's brand. The front of your gift card should be pretty simple. Less is more. Often just incorporating your company's logo and color scheme along with the words "Gift Card" will be enough. Some businesses like to work in a gift bow or watermark a photograph of one of their products or services into the background.
On the back of the card, be sure to include your contact information such as your phone number, website, and address. It is also important to include information about your gift card program's terms and conditions. Here are some popular lines of text that can be found on the back of gift cards:
This gift card cannot be refunded or redeemed for cash.
Protect this card and treat it like cash.
Lost or stolen cards cannot be replaced.
This gift card carries no expiration date or dormancy fee.
4. How do I actually get my logo on the gift cards?
Most companies that print plastic gift cards require you to supply artwork that has been created using a professional graphic design program.
This means that you would need to hire a graphic designer that can incorporate your logo, contact information, and card terms into a design for you. The graphic designer would then provide print-ready files that can be supplied to the printing company upon placing your order.
A few printing companies, like Print Robot, provide complimentary design services. This means that you simply provide them with your logo, contact information, and any additional details that you'd like to include and their design team will create a beautiful gift card design for you. They will also provide a digital proof so you can see exactly how your cards will look before they are printed.
Ready to get started?
Click here to request free design services. Just provide your logo and an idea of what you'd like to appear on your gift cards and we'll take care of the rest!
Already have artwork ready to go? Take advantage of our instant price calculator which allows you to upload your print ready files and place your order.
Prefer to talk to a live person? Call 800.547.6624 Monday - Friday 8am - 5pm EST to speak to a friendly representative.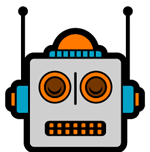 About Print Robot
We are hard-coded to be passionate about producing high quality printed products at affordable prices. Print Robot creates a wide range of plastic cards, magnets, signs, and decals. We offer FREE design services on most orders $250+ and print all products in the USA.
ADDITIONAL RESOURCES
3 Reasons Why You Should Order Custom Gift Cards For Your Company
Plastic Business Cards & 6 Other Ways Plastic Cards are Amazing