Whether you are looking to generate revenue, provide contactless entry, or impress recipients, custom plastic cards make an amazing tool for businesses of all sizes.
Looking for business cards that leave a lasting impression? Plastic business cards do just that! Stand out from the crowd with the long lasting, waterproof business cards that are sure to make potential customers say WOW.
Want something extra unique? Order metallic plastic cards available in gold, silver, or copper. Prefer a super sleek look? Try black plastic cards with gold or silver foil.
On a budget? Thin plastic cards provide the most bang for your buck.
No matter what you have in mind for your plastic business cards, Print Robot can help to create something amazing to help give you an edge over the competition.
Gift cards are everyone's favorite gift! The gift giver loves how easy they are to buy. The gift card recipient loves that they can pick out whatever they want. The business owner loves the instant cash flow they receive. It's a WIN for everyone!
Whether you own an eCommerce store or brick and mortar location, ordering custom gift cards is easier than you think and can be a great source or revenue for your company. Print Robot is here to help you every step of the way!
Every club, association, or group feels more legit with plastic membership cards. There is nothing quite like receiving a plastic card with your name printed on it. It's the type of thing that adds value to your organization and can increase member engagement.
Membership cards can be as simple as a logo and member name but can also include important phone numbers, websites, and access codes. They can be issued each year or for a lifetime. Each card can be personalized with the member's name, ID#, and/or photograph.
Many membership organizations have members that trickle in. From printing hundreds of membership cards that are adhered to letters and mailed directly to members to printing just a few cards each month and sending them to the organization, Print Robot can develop the perfect solution for your needs.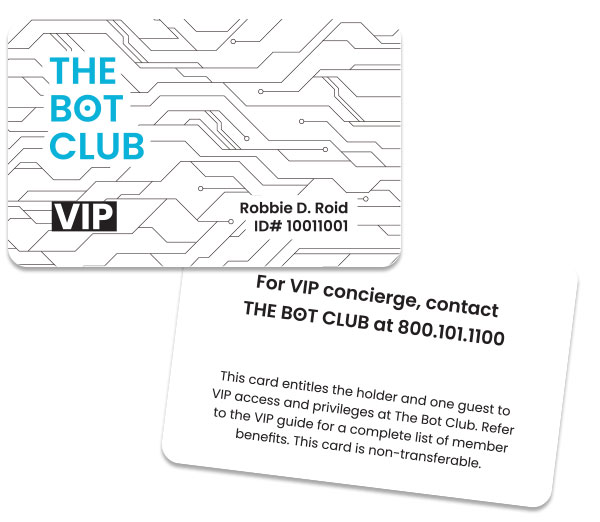 Looking for a way to make your best customers feel special? VIP cards do the trick every time!
Whether they are just for show, provide special discounts, or exclusive access, these plastic cards are the perfect tool to help give VIP access to those who need it.
Each card can be personalized with their name, and any other information you'd like to include. Offering tiered packages? Try gold, silver, and copper metallic cards.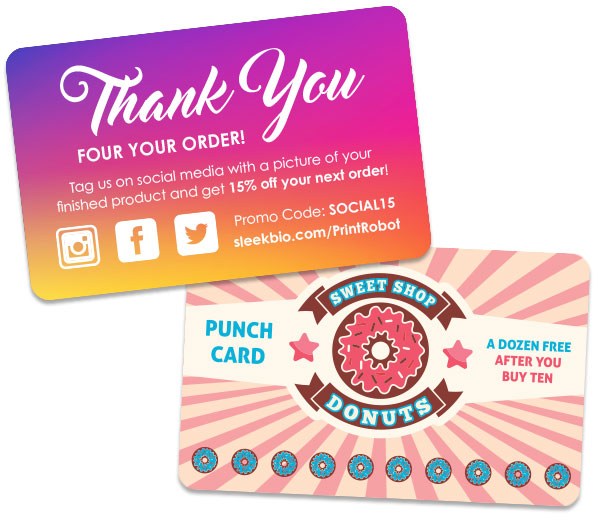 Have an idea for a clever marketing campaign that needs to grab someone's attention? Print it on plastic instead of paper and get noticed!
Standard plastic cards are the same size and thickness as a credit card and can be personalized with unique names, numbering, websites, barcodes, or QR codes.
On a budget? Try thin plastic cards printed on flexible plastic. This less expensive option does not allow for variable data but can be a great tool for a punch card, to promote your social media profile, or as an insert to be included with eCommerce orders. Add a QR code and make it easier than ever for people to follow you or provide a review!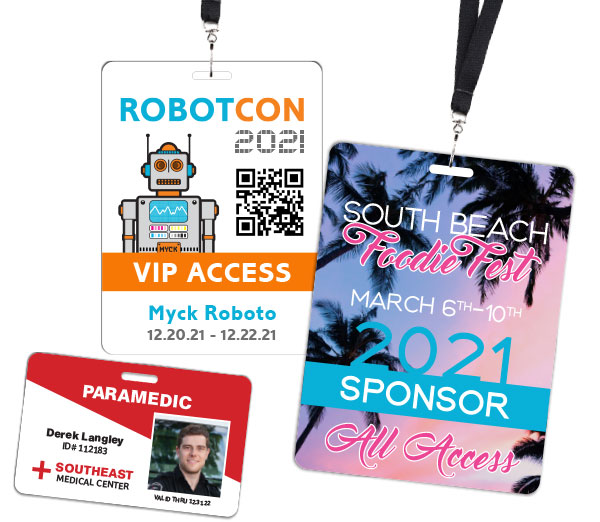 In person events and activities are finally coming back! And in this new era of mask covered faces, so are ID cards that are clipped to shirts to show what's under that mask.
Custom event badges and ID badges are perfect for employee identification cards, conference / trade show badges, access passes, medical badges, or credentials of any kind.
ID Cards & Event Badges are available in standard credit card size and a variety of other sizes. A Slot or hole punch can be added to the top if they will be worn with a lanyard. Each card can be personalized with unique names, numbers, dates, QR codes, barcodes, and more.
Wondering what RFID Cards are? While you may not be familiar with the technology that makes them work, there is a very good chance you used an RFID Card the last time you stayed at a hotel.
Ever wonder how holding a plastic key card up to a hotel room door makes it magically open? Now you know!
RFID Cards (Radio Frequency Identification Cards) are embedded with a tiny microchip that is barely visible to the naked eye. When encoded with data, they can be programmed to activate RFID-enabled devices. They are most commonly used as hotel key cards and security access passes.
RFID plastic cards have recently increased in popularity since they can provide contactless access with advanced security features. They are available in a variety of configurations and can be customized to fit your needs.
These are just a few of the most popular ways plastic cards are used. Ready to order some plastic cards of your own?
Print Robot makes it easy by providing free design services on most orders $250+. We are also proud to print all of our products in the USA.
Ready to get started?
Click here to request free design services. Just send us your logo and an idea of what you are trying to accomplish and we'll take care of the rest!
Already have artwork ready to go? Take advantage of our instant price calculator which allows you to upload your print ready files and place your order.
Prefer to talk to a live person? Call 800.547.6624 Monday - Friday 8am - 5pm EST to speak to a friendly representative or schedule a ZOOM video chat to discuss your project at your convenience.